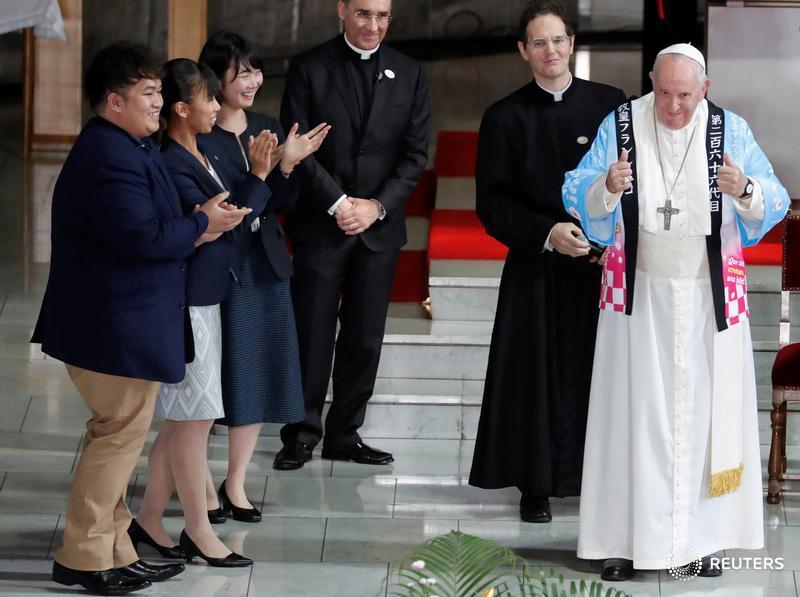 The Pope is currently in Japan visiting Japanese Catholics.
In a speech at the main cathedral of Tokyo, he expressed concern that Japan has not done enough to help refugees in the recent years.
He was shocked to learn that only 42 people received refugee status in Japan, and said this must change.
"I ask you to spread the arms of friendship and welcome those who come, often after great suffering, to seek refuge in your country" Pope Francis made an appeal to Japan at the meeting with young people in the Cathedral of Saint Mary in Tokyo. The Pope explained Japan's framework of rules is "so restrictive that the number of those who have obtained refugee status in 2018 is limited to 42 people."

Too much competition and frenzy leads to loneliness, "the greatest poverty," the Pontiff said in a meeting with young people in Tokyo. "There are young people who do not laugh, do not play, do not know a sense of wonder and surprise. As zombies – Pope Francis used this word -, their hearts stopped beating because of their inability to celebrate life with others. And now we need to make room for God in a frenetic society focused on being only competitive and productive."

http://www.ansa.it/sito/notizie/mondo/asia/2019/11/25/papa-al-giappone-accogliete-i-rifugiati_3fca8cd7-5bf1-40cc-9b54-8cc864a39005.html